From Mild to Wild, River & Trail offers gifts of experience and cabin/camping stays suitable for all ages and experience levels!
Gifts of Adventure and Getaways!
Holiday Gifts of Adventure… Receive $10-$50 extra! 
Buy $50, get $10 in Promo Dollars
Buy $100, get $20 in Promo Dollars
Buy $200, get $50 in Promo Dollars
Purchase a Gift Certificate for your loved ones to use on the adventure, camping/cabin stay, or retail item of their choice! Receive promo dollars to give away or keep for yourself.*      
Buy Now! or call now at (301) 834-9950.
 Your gift recipient can choose from a large selection of mild to wild trips which all take place in the tri-state area of Maryland, Virginia, and West Virginia near Harpers Ferry.
*Promo dollars are good for any River & Trail trip or campground stay and expire 11/1/2024.  Gift Certificates never expire.
Gift Certificates May Be Used for:
Food & Drink Tours : Water to Wine, Boat & Brew
Whitewater Rafting
Individual Tubing Trips
Kayaking & Canoeing
Tubing Season Pass
Cabins, RV & Tent Camping
Airsoft
Store: Used Kayaks, Rafts, Gear, Souvenirs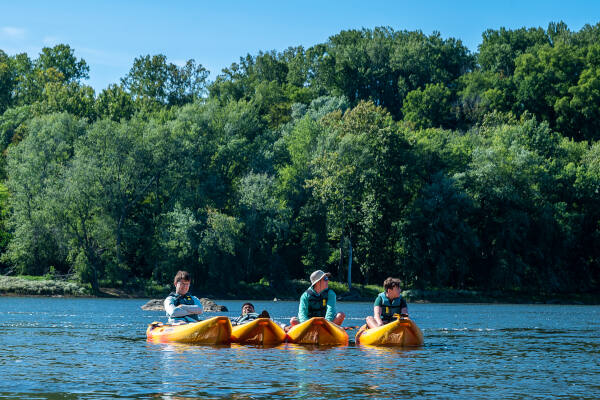 Enjoy a guided kayak or canoe trip, paddling a stretch of the Potomac and Shenandoah Rivers or Antietam Creek to your food & drink destination or enjoy a Sunset Paddle.
Enjoy good company, local beers and wines, tasty appetizers/foods
Price: Sunset Float $75 (no food or beverage included)
Paddle & Pour Tours $92-$121 (+ taxes/user fee)
Go tubing on the Top Tubing Rivers in the USA* by Harpers Ferry, WV, according to USA Today's Reader's Choice
Gift recipients can choose from 3 different trips, including: Mellow Tubing on the Shenandoah River , Mellow Potomac Tubing with picnic, and Whitewater Tubing.
Prices: $53/Potomac Mellow Tubing | $30- $41 Shenandoah Mellow & Whitewater Tubing
Minimum age: 7 yrs & 50 lbs for Mellow Potomac Tubing, 4 yrs & 50 lbs for Mellow Shenandoah Tubing, 12 years and 90 lbs for Harpers Ferry Whitewater Tubing
Harpers Ferry Whitewater Rafting
Raft the Shenandoah/Potomac Rivers on our guided half day whitewater trip
Class I-III whitewater introductory level rafting
Historical & natural interpretation included
Riverside snack
Prices vary. Saturday pricing during the summer season (highest pricing): $89/Adult | $77/Child 12 & under (+ taxes/user fee)
Minimum age: 7 yrs & 50 lbs.
Enjoy up to 3 hrs of Kayaking or Canoeing on a scenic and mellow section of the Shenandoah River
Try out a a wide variety of boats. No shuttle necessary
Price: $35 (+ taxes/user fee) plus add a Mellow Tubing Trip for only $10 more!(optional)
Includes all you need, boat, paddles and PFDs
Minimum weight: 50 lbs.
Voted in the top 10 tubing rivers in the nation by USA Today's Reader's Choice, these rivers are worth coming back to again and again!
Kick back to the max as you take advantage of tubing the Shenandoah and Potomac Rivers in the Harpers Ferry area
BONUS: Includes Park & Paddle on the Shenandoah River
Individual Pass Price: $104 (+ taxes/user fee)
Family (of 4) Pass Price: $295 (+ taxes/user fee)
Minimum age: 4 yrs & 50 lbs for Mellow Tubing | 12 yrs & 90 lbs for Whitewater Tubing
PLEASE NOTE: Season passes are only available for the Mellow Shenandoah & Potomac River trips. 1-2 hours in length with no riverside picnic.
Brunswick Family Campground Cabin Rental
Relax and unwind in a cabin bordering the Potomac River and C&O Canal
Located in Brunswick, MD within 15 minutes of Harpers Ferry National Park
The C&O Canal and Appalachian Trail nearby make for great hiking and biking
Sleeps 6 featuring custom fold out beds and table
Minimum stay of two nights. No pets allowed.
Price: $91-170/night (+ tax)
Save $100s of dollars on boats with our Used Fleet sale every fall! The boat store is at our Harpers Ferry headquarters location at 99 Cary Lu Circle, Harpers Ferry, WV 25425.
For more information call (301) 834-9950.