Kayak & Canoe Rentals near Harpers Ferry, WV
Enjoy the best selection of quality canoes and recreational kayaks for paddling the Shenandoah River, Potomac River, and Antietam Creek near DC.
Shenandoah & Potomac River Kayak & Canoe Rentals
The Biggest Inventory of Kayak & Canoe rentals in Harpers Ferry!
Only one hour from Washington DC & Baltimore beltways, River & Trail Outfitters offers the widest variety of trips closest to the Maryland suburbs, Northern Virginia, and DC and Baltimore areas. We have five decades of experience hosting paddlers on kayaking and canoeing trips in the Harpers Ferry, West Virginia region. Rental kayaks & canoes are available for a short paddle to a multi-day paddling adventure.
Our park & paddle experience on the Shenandoah River is well-suited for first time paddlers or paddlers with young children. Out of Brunswick, Maryland, we offer mellow and entry level whitewater kayaking and canoeing trips on the Potomac River. For those looking for an overnight experience, our two and three day canoe rentals on the Shenandoah River offer a scenic paddle on Class I-II waters surrounded by the Blue Ridge.
Check out our regularly scheduled canoe and kayak trips on the Potomac River & Shenandoah River. For groups of ten or more boats, River & Trail offers a greater variety of kayaking and canoeing options on area rivers and streams, including Antietam Creek.
Kayaking & Canoeing near Harpers Ferry, West Virginia
Potomac River Kayak & Canoe Rentals - Mellow
Available April – October
Great bird watching and scenery!
2-3 hour trips daily
4-5 hour trips available for groups of 10 people or more
Looking to paddle some light rapids? Try our guided Sunset Paddle:  Wildlife & Waves!
Park & Paddle - Hourly Rentals Fun
.

Available Mid May – Mid October
Kayak at the Shenandoah Riverfront for  1-3 hours for a flat fee
Try as many boats as you wish!
Kids 4-8 yrs paddle free with adult
Add tubing for just $10 
Shenandoah River 2 & 3 Day Canoe & Kayak rentals
Available April – October

Multi day boat rentals available for river camping trips on the Shenandoah River

Choose a 2 day or 3 day rental

Packing list and detailed river maps provided

Great for families, couples and groups!

Enjoy wildlife sightings, fishing and camping

Take 2 or 3 days to recharge in nature & reconnect with friends or family!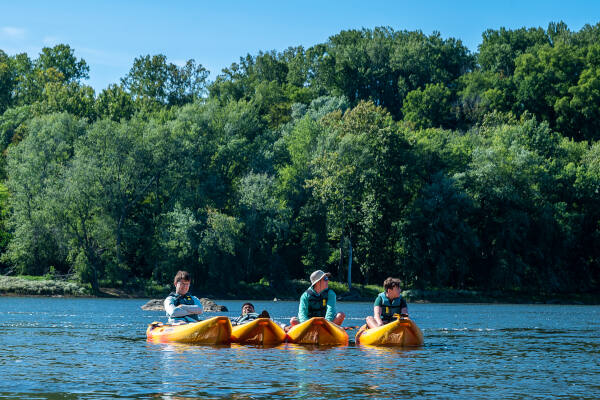 Shenandoah canoe and kayak rentals (groups)
Available April – October
Available for groups of 10 or more boats
Experience the beauty of Shenandoah Valley
Half and full day rentals available
Antietam creek kayak & Canoe rentals (groups)
Available April – June
For Groups of 10 boats or more only
Paddle through historic Antietam Battlefield
Named one of the top 60 paddling streams in North America!
Canoe & Kayak Tours - Guided
Want a fully guided tour experience instead of a DIY rental?

Unique specialty kayaking and canoe tours available only with River & Trail Outfitters!

Paddle some beginner white water on the Sunset Paddle: Wildlife & Waves!

Potomac Kayak Tours to Local Wineries

Potomac and Shenandoah Kayak Tours to Local Breweries